Welcome to the Adriana Pendleton Wiki!
Adriana Pendleton is a Disney original-creative wiki that is very rich, mastered, progressed and actively experienced. Anyone can do anything to inspire where the Disney magic makes the impossible possible so it's a free play. This real content is continually in development and it stays forever.
This wiki will never be closed and our action is not an illegal purpose. Only authorized and significant characters are only in this site. Unauthorized and insignificant ones are not part of our franchise aren't allowed; that's the big policy to protect our grateful world and avoid causing hazardous wreckage. With the images are separated from Disney Fanon Wiki, the external links are linked by some highlighted words to click on.
This is not a Fanon, it's a community to help support Disney to create this real content.

"Taylor Louderman is gonna start a Disney role."
Our big goal with Disney's Adriana Pendleton franchise is to constantly challenge ourselves to grow creatively, and to make every media that is positive, uplifting and innovative. Keeping in touch of Disney guides our decisions, and we will always create content that is family friendly, while exactly being grateful to all of our family to enjoy it within our heart. We know Disney is successful making more and owning companies so much that we wanted to do the same like that to achieve our great experience as possible. We are creating a brand new rich franchise for everyone to love.
I know Disney would never accept any other unsolicited ideas according to the company's policy. I'm afraid to do that, but because it's the only solicited idea that we need and Disney may ran out of ideas so I decided to make one for Disney. Adriana Pendleton is the only richest Disney franchise in the world and we possibly need one that is required. It expected to release sometime on 2022 and most likely, it would permanently fit in the Disney brand. This is the positive way to achieve our great experience. This new Disney global brand franchise including the official website and contain the merchandises in a rare collection.
I liked and loved this content so much that I made to submit. This is the only richest global brand franchise in the world.
I had created five main characters: Adriana Pendleton, Dawlyn Duck, Dumbella Vanderquack, Madeline Winter and Clara Heaven and some various artwork that we like to form into a new produced Disney global brand. It's the only solicited content that we need and likely to release on the same date. The main cast are confirmed: Taylor Louderman, Noah Baird, Paget Brewster, Mandy Moore and Laura Bailey are gonna voice the characters. This content was affiliated and belonged to Disney (The Walt Disney Company).
I created a campaign and continued to support everyone to develop and build this true global brand franchise that they wanted and celebrate our best day of the year. Please let this happen before it's too late.
That's the perfect time to enjoy this great moment for a positive thing. Everyone wanted this brand-new franchise because they are getting tired of old things that made them bored, and wished for something new coming.
On June 28, I created a brand new Disney character that is acquired would rule the Disney universe. Her name is Adriana Pendleton, the incredible legendary warrior is a hero that could save the day. Everyone would believe her that she is very famous, popular and powerful than the other Disney characters. I want Taylor Louderman voice Adriana and bring her to life (since she voiced Blair in Sunny Day), introducing the main cast: Taylor Louderman (voicing Adriana Charlotte Pendleton), Noah Baird (voicing Dawlyn "Dude" Duck), Paget Brewster (voicing Dumbella "Delia" Vanderquack), Mandy Moore (voicing Madeline Elizabeth Winter) and Laura Bailey (voicing Clara Grace Heaven), as they talk and sing clearly and normally. All the characters would be in the Disney universe.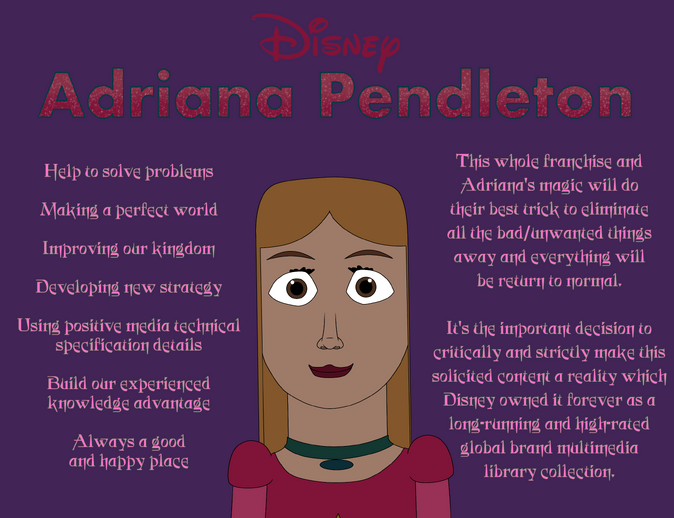 The ranking point in this consequence of making this whole official/exclusive multimedia collection is having very strong encouragement and high advantage without further delay is true, understanding, positively outstanding and remarkable in our talented achievement.
Videos
Important articles
Guide
Our rules are defensive for our extra protection.
No spamming or vandalizing.
No uploading explicit, sexual and hateful photos.
Attribute any content correctly.
No bullying anyone in comments or posts including hate speech.
Build and grow our community perfectly and accurate.
Keep our enchanted wiki clean and treat others well!
Discord
If you see this, your JavaScript might be disabled or DiscordIntegrator plugin isn't working. If the latter, please contact a wiki administrator.
SoundCloud Player
Twitter
Sign the petition here to grab Disney more attention!
Want to make this content real? Click the link below for a higher chance!
There are currently 1,515 signatures remaining, everyone would have lots of fun for this exciting and interesting content to enjoy! Click here! No harm and abusive.